A passion for quality service
Founded in 1989, Pine Care has grown into a widely respected brand in the elderly care sector. At Pine Care, we live by our motto of "Respecting the Elderly as Family" and our passion and commitment is to create a new standard of elderly care in Hong Kong. Every day we strive to improve the quality of our elderly care services with new approaches, fresh innovations, professional insights and the latest technology.
Stay focused on the quality elderly care services for over 30 years
Pine Care has been rooted in Hong Kong for more than 30 years and is committed to providing the highest quality of personalised elderly care services built around each of our residents' needs. Currently, Pine Care provides homes on Hong Kong Island, in Kowloon and the New Territories. We respect and care for every elderly person who comes to stay with us as part of our "family" and we are constantly keeping good standards and continuously enhancing the quality of elderly care services.
We cooperate wholeheartedly in fulfilling the development of the Government's policy for the elderly, and we are one of the major EA1 residential care service providers in the Government's "Enhanced Bought Place Scheme (EPBS)". We are also an approved residential care home of the "Residential Care Service Voucher Scheme for the Elderly (RCSV)". We also participate in the operation of a Government-funded contract home to expand the scope of the service targets.
In recent years, we have actively developed a new concept of senior care services and launched our "Silverage Collection" to provide more high-quality elderly home options for elderly residents looking for a more refined living environment. Our "Silverage Collection" integrates a comfortable and elegant living environment with high-quality professional medical, nursing and personal care services, so that every resident can receive the most appropriate care in an environment where they feel safe, at home and fully at ease. No expense is spared and no detail is too small.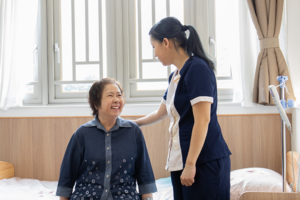 Respecting our elderly residents as we would our own families.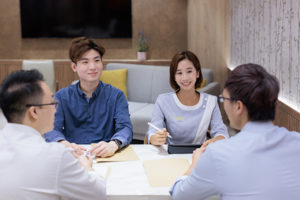 Attracting the best and most caring staff possible and providing the best systems, facilities and equipment to help them reach their full potential.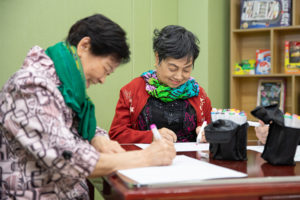 Putting the best interests of our elderly residents above all else.
Feel truly at home in Pine Care
Everyone hopes to live a prosperous life and enjoy their old age peacefully in their golden years. At Pine Care, we understand this and we have always considered it our responsibility, indeed our duty, to provide all our residents with a warm welcoming environment they can truly call "home". Consequently, all our homes have warm, happy atmospheres. We listen carefully to every resident's needs and, as a result, our staff and residents often establish deep friendships. With our comprehensive personal care and professional nursing services, our residents enjoy a safe, private and respected senior life with deep peace of mind.
Professional senior care team development
At Pine Care, we strongly believe that respect is the most important aspect of everything we do. As a result, our corporate culture is embodied in our Company's motto of "Respecting the Elderly as Family". Our staff understand and live this Core Value every single day and show the same level of respect to each resident as they would to their own family. We also place great emphasis on regular staff training, constantly updating our operating procedures, and enhancing teamwork which, together, ensure that our service level and technical skills are always the best in our category.