Residential Care Home for the Elderly Specialising in Dementia Care
Conveniently situated in Shek Kip Mei, Pine Care Point is specifically designed to serve the special needs of elderly residents suffering from dementia. With an area of over 43,000 square feet, Pine Care Point offers 102 beds in various room configurations. While the majority of the rooms are offered as single rooms or single suites, 2-person to 4-person rooms are also available.
Facilities
Pine Care Point provides a thematic space on each of its floors, namely; Community Space, Culture and Arts Space, as well as Elderly Vitality Space. Each floor is fitted with numerous facilities, with services and activities designed to provide the appropriate care for our residents ranging from early to late cognitive impairment.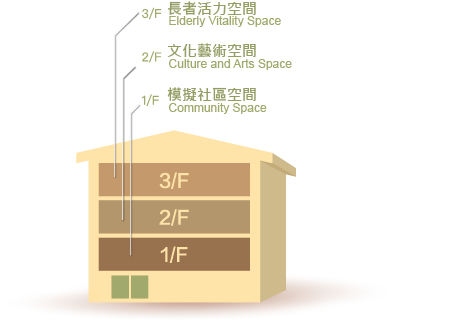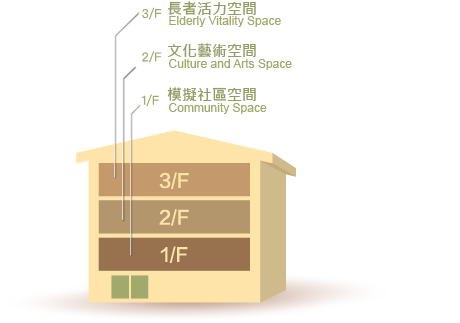 The first floor of Pine Care Point is a Community Space designed to strengthen the sense of security and belonging of elderly residents with cognitive disabilities. With the aim of stimulating the elderly residents' memories and establishing their identities within the community, the space is created to simulate 1960s Hong Kong – an environment that is deeply familiar to our elderly residents.
In addition to the numerous facilities found in the Community Space, we also help our elderly residents to personalize their rooms with items such as photos of their families and other items of sentimental value. This will further strengthen their sense of belonging, easing the transition into Pine Care Point.
Facilities:
Nostalgic Restaurant     Nostalgic Street     Bus Stop     Grocery Store     Recreation Park     Indoor Garden     Sensory Wall     Sensory Room
The second floor of Pine Care Point is dedicated to cognitive impairment. The space is based on the theme of culture and arts. Through art and sensory stimulation, this area facilitates and encourages elderly residents who struggle to articulate their feelings to express their emotions through art, thus increasing communication with others and boosting their vitality.
Facilities:
Cinema    Calligraphy Room
The Elderly Vitality Space on the third floor of Pine Care Point offers wide range of activities and games. Games, individual and team sports, and dance can enhance the elderly residents' confidence and fulfillment, while increasing their strength and enthusiasm. Families are strongly encouraged to participate.
Facilities:
Yoga and Dance Room     Toy Library     Game Zone     Mediation Room     Salon     Physiotherapy Room
Personalised Care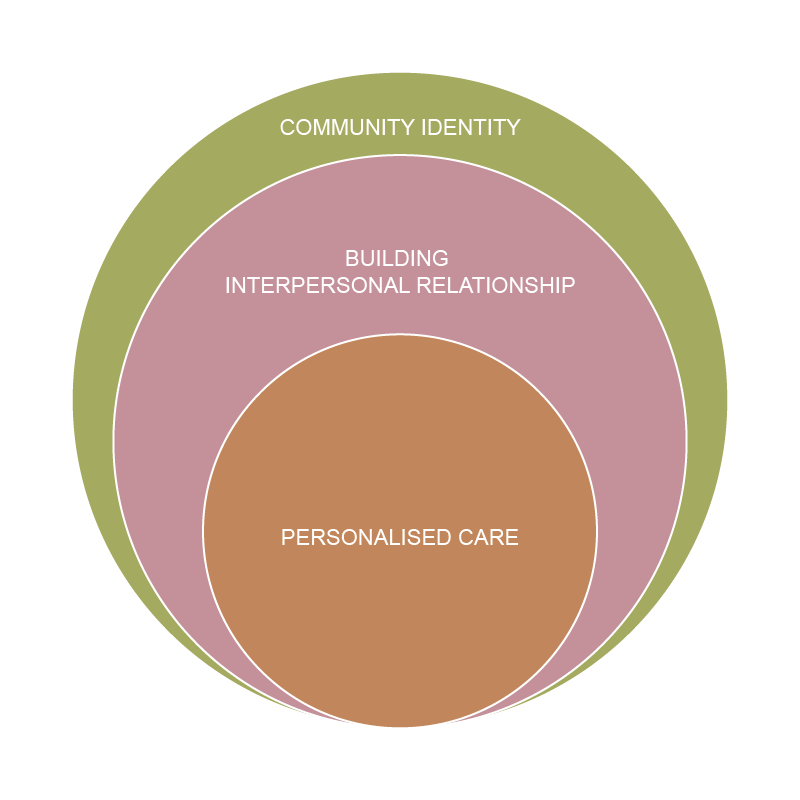 Unlike traditional residential care homes with strict timetables and routines, we will design personalized daily routines for each elderly resident based on his/her daily habits, past occupations and interests so that the elderly residents can retain their previous lifestyles and sense of identity.  
In addition, we offer a wide range of activities and classes designed by professionals to stimulate mental and physical functions.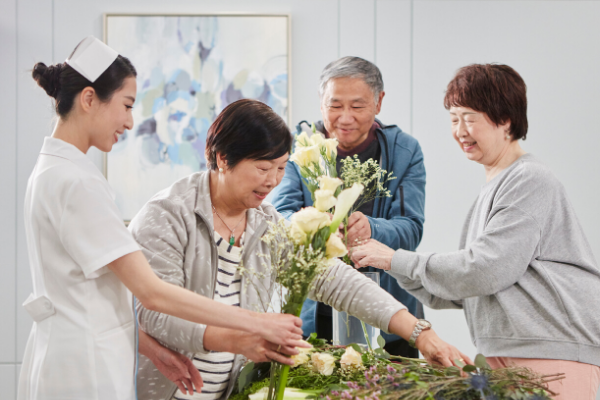 BUILDING INTERPERSONAL RELATIONSHIP
Medical and Nursing Care
Medical and Professional Nursing Support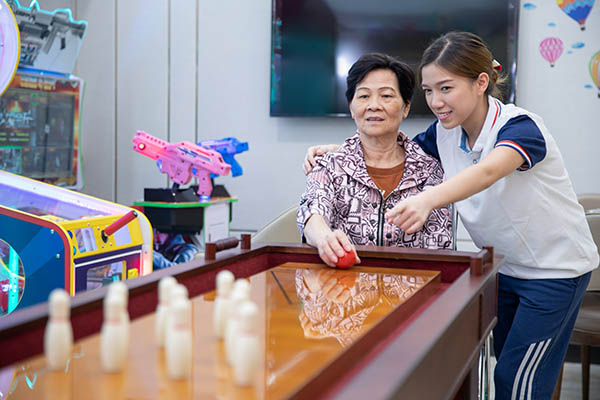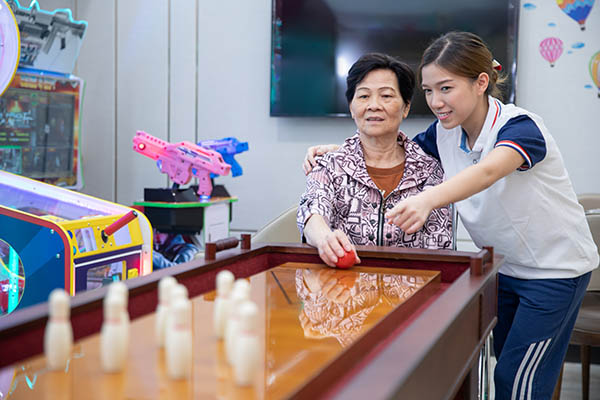 Cognitive Training Program
Our rehabilitation team, consisting of geriatricians, social workers and occupational therapists provides appropriate training for residents to improve their mental performance and quality of life in order to slow down the process of mental degradation. Occupational therapists regularly conduct cognitive assessments, records and analyses, and design appropriate treatment programs for residents.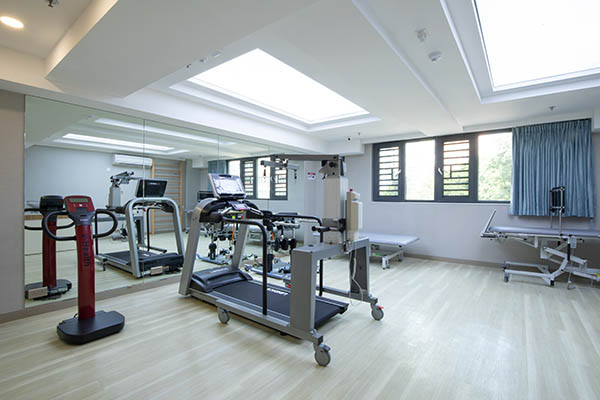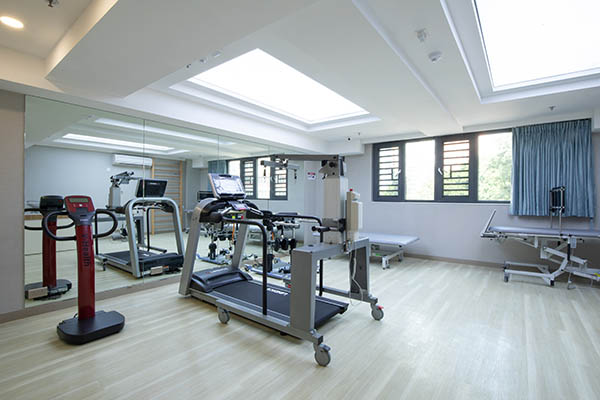 When a new resident is admitted, a three-pronged evaluation of his/her conditions is conducted by a nurse, a social worker, and a physiotherapist. Based on the results of the evaluation, an individual care plan is designed to meet the specific needs of the resident. The plan is then carried out for a period of 6 months, at which point the plan is re-evaluated. This ensures that the elderly resident always receives the best and most appropriate care possible.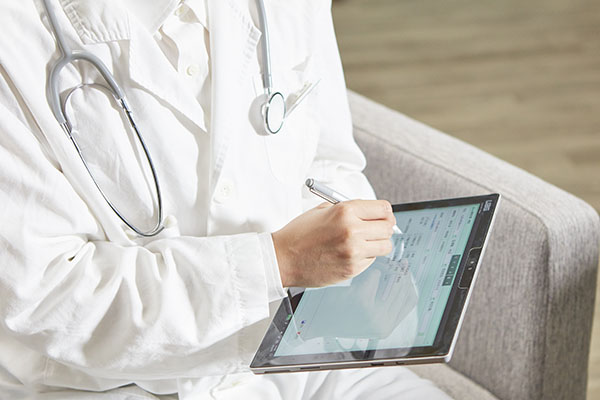 Supporting Medical and Nursing Services
In addition to cognitive training and basic care services, we also provide in-depth medical and nursing services, including:
Rooms
About Application
Eligibility for Application
Persons aged between 60 and 64 may apply if there is a proven need for residential care based on health, subject to their meeting the admission criteria
Assessed as suitable for moving in to Pine Care Point 
A preliminary assessment will be conducted for the elderly and the family
As long as the elderly are assessed as suitable to move in and the relevant documents are confirmed, the accommodation can be arranged
We can arrange a transfer of the elderly from his/her current location to Pine Care Point
Contact Us
Shop G1B & 1/F – 3/F, Maintown Plaza, 223 – 239 Nam Cheong Street, Shek Kip Mei, Kowloon
Tel:2975-1000
Fax:2975-1088
info.pcp@pinecaregroup.com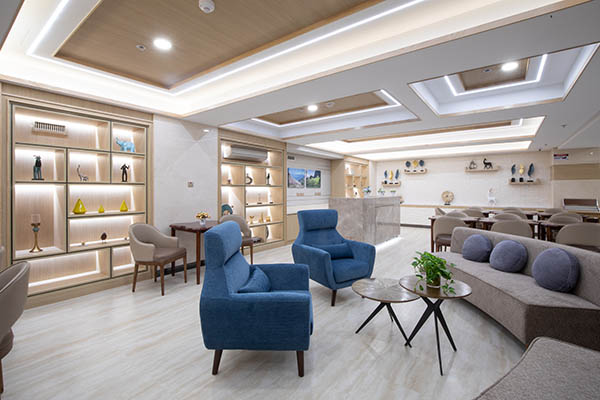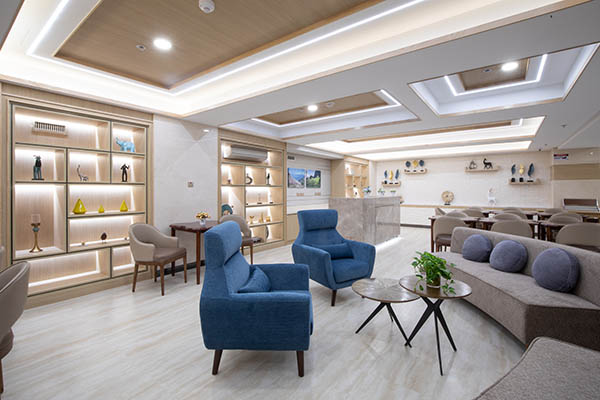 Shop G1B & 1/F – 3/F, Maintown Plaza,
223 – 239 Nam Cheong Street, Shek Kip Mei, Kowloon
Tel:2975-1000
Fax:2975-1088
info.pcp@pinecaregroup.com